Early Show 6-9 pm  – Sliding Scale $8-$10
6 pm – T.E.L.L. Hour – Variety Hour with Bay Area Poets,
Words by Lauren Wheeler and Ginger Murray and comedy by Kevin Munroe
Lauren Wheeler writes poetry, really short fiction, and what happens when they rub up against each other. A recovering slam poet, she twice competed at the National Poetry Slam and has featured at Cornell University, where she studied English Literature, as well as in Los Angeles, Miami, and throughout the San Francisco Bay Area. Lauren curated and hosted two poetry series in Ithaca, Tongue & Groove at Stella's Wine and Whiskey Bar and Re-Verse at the Oak Café, and was a core organizer of the ForWord Girls poetry and spoken word festival in San Francisco. Her work has appeared in Other Magazine, 365tomorrows, Lodestar Quarterly, Monkeybicycle, PANK Magazine, and The Nervous Breakdown.

Lauren lives in a drafty old house in West Oakland, California with her partner and two brown dogs. With several years of experience in the video game industry, she's currently working on The Sims 4. In her off hours, she enjoys dancing, performing offbeat burlesque, and singing (as Lola Vauntz) and occasionally deejays (as DJverse)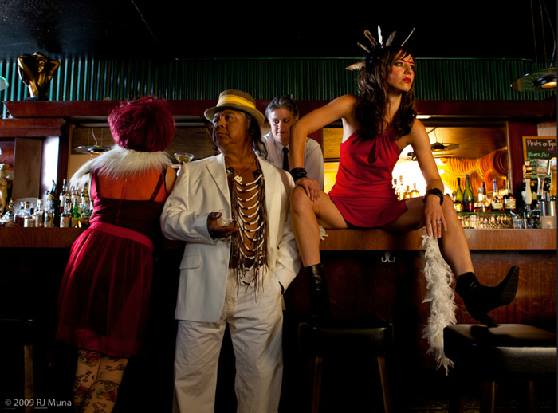 Kevin Munroe is a Trinidadian Comedian and Actor based in San Francisco. He was co-creator of "Ebony and Irony Show", opened for Tracy Morgan (yes, that guy) and W. Kamau Bell, and was recently seen at the 2013 Bridgetown Comedy Festival.
6:45 – Allison Lovejoy
Stories about characters, both real and fictional, have always had great appeal to me.

After reading a magazine article about a murderess in my neighborhood, I was inspired to set her story to music. "Foxglove" was the title and the name of the poison. Since then, over 30 additional songs have been added to the roster.

My cabaret takes its influence from theater, classical music, vaudeville, rock, jazz, blues and tango. "Cabaret Nouveau" blends dark cabaret, sassy lyrics, hot piano stylings, great grooves and crafty songwriting. Echoes of Nina Simone, George Gershwin, Kurt Weill, and Elton John are heard in the music and lyrics, as well as a connection to members of the "Dark Cabaret" movement such as The Dresden Dolls, Jill Tracy, Antony and the Johnsons and The Tiger Lilies.
She was winner of the "Best Modern Cabaret Artist" Competition in 2010.

Burlesque and the Shadow Puppet Theater.
Pony Hunt is a writer and performer from Oakland by-way-of Chicago. Her guitar playing is reminiscent of delta blues with a tin pan alley flare. Her distinct, almost ghostly voice, coupled with her personal and intimate song writing, is both vulnerable and confident and cuts straight to the heart.
8 pm – Banda Sin Nombre
Music from around the world.
In fall of 2011 a fantastic person by the name of Jane Stitt began to tactfully bring people recently moved to San Francisco into her circle of music that spanned from bluegrass and folk to Mexican baladas and classical French and Italian songs.The thing that we all had in common was a love for learning and sharing music…specifically old, raw, traditional music that managed to be mutually inte
rtwined into each of our cultural histories and interests.
After many months of gathering people we formed a band called Sin Nombre that included members Larry del Carlo, Kevin Caulfield, Randall Carvajal, WillBill DeGrush, as well as the current members Hannah Gallagher, Kate Goldstein, Eva Mas and Douglas Gallagher.Despite changes in our members and instrumentation, we hold every person who has brought their passion for music, community and joy as part of what we create together. Our goal is to learn and share music that has inspired and moved people everywhere for hundreds of years and to support local communities in the bay area with our passion for music.
Sin Nombre is a five-piece street band from San Francisco's Mission District dedicated to performing folk music from around the world. Mixing rich vocal harmonies with acoustic instruments including guitar, fiddle, accordion, sousaphone, and cajon, the band's inspirations range from Peruvian chicha to Catalan rumba and Appalachian old time to cumbia.
Supporting community music, arts, local business and diverse cultural events in San Francisco and beyond. Street performance, busking.
+++++++++++++++++++++++++++++++++++++++++++++++++++++++++++
Late Show 9:30 – Close – Sliding Scale $8-$10
DJ sets throughout the night by Antonino Musco (Msk | Eclectic Electric Recordings)
MSK.fm is the brainchild of Antonino Musco, italian-born producer, musician and radio host now based in San Francisco.

The City and the Bay inspired the 6 tracks of the EP, a blend of urban, funk, electronic, downtempo and trip-hop, influenced by the love of world music, the eclectic taste of Antonino and the international melting pot of the line-up that includes NYC guitarist Andy Averbuch (The Joe Bataan Band, Kokolo Afrobeat Orchestra), brazilian trumpet maestro Leandro Joaquim (Marcos Valle, Lucas Santana, etc), italian cellist Stefano Di Leginio and the SF rising stars Christopher Burch, Jessy Manuel, Hanna Rifkin on vocals/lyrics.
Made of a balance of global musicians and local singers, MadeInSF EP was composed, recorded, mixed and produced by Antonino Musco, who also plays keys, guitars, sampler, drums and percussions. The experienced engineer Mark Pistel (Meat Beat Manifesto, Hercules & Love Affair) mastered the EP at Room Five Studio.

Broken Shadows Family Band has a rootsy sound with an emphasis on lyrics and song-writing, with raucous violin and trumpet solos over deep grooves.
About Darren JohnstonSince settling in San Francisco in 1997, Canada-born trumpeter/composer/songwriter Darren Johnston has collaborated and recorded with an extremely diverse cross-section of artists. Whether playing with straight-ahead jazz luminaries such as bassist/composer Marcus Shelby, experimental icons like ROVA, Fred Frith and Myra Melford, rising star voclaist Meklit Hadero, or tradi
tional Balkan brass band giants Brass Menazeri, he manages to blend in while still sharing his unique voice.
As a bandleader he has made his mark with the award winning Nice Guy Trio, The Darren Johnston Quintet, the category defying Broken Shadows, and more. For an upcoming commission by the Yerba Buena Gardens Festival, "Letters From Home," Johnston will be forming a multi-generational chorus with over eighty participants.
The Oakland-based Broken Shadows Family Band is an all-star cast of musicians from greatly diverging backgrounds. Western European to Arabic Classical music, Slavic choral music to Americana, sounds of Macedonia, Ethiopia, classic jazz and R&B are all ingredients in their family recipe. They've created a truly unique sound, balancing the old with the new, telling human stories over grooves that be
g to be danced to. Along with some surprising covers, they play originals by trumpeter/composer Darren Johnston, including selections from two different suites for which he used recorded interviews and collected letters by immigrants living in the US to create lyrics. (Songs of Seven Miles and Letters to Home). Collectively, members also play with Meklit Hadero, Kitka, Quartet San Francisco, Incognito Orkestar, Qadim Ensemble, Fanfare Zambaleta, The Nice Guy Trio, Inspector Gadje, the Oakland Active Orchestra, and others.
peace via empathy via music and dance
Ikoyenia Pazerentsi, Gillian Welch, Meklit Hadero, Louis Armstrong, Inspector Gadje, Oum Koulsom, Fanfare Zambaletta, Ornette Coleman, Dejan Avdic, Miles Davis, David Byrne, Billy Holliday, Hazrat Inayat Khan, Radiohead, Johnny Cash, Billy Strayhorn
Ladies and gentlemen, we welcome you to The Mano Cherga Band experience. Growling of the tuba, wailing of the accordion, spring reverb on the semi-hollow, clinking of the glasses, wind from the skirts on the dance floor, sweat running down your back, a smile on your lips and tears in your eyes. That's what it's all about for us, and we love to share those moments with you. 
We are Jamie, Beodan, Sasha, Nino and Zhenya – tuba, guitar/voice, accordion, drums, bass – US, Serbia, Ukraine, Bosnia, Ukraine – respectively and always respectfully. The recipe is simple: take Balkan Romani, traditional and popular tunes, apply swing, turn up the bass, don't be shy on the snare and sing like this is the last song you will ever sing.
Sound good? Check the calendar section for information on upcoming shows and be sure to join our Facebook group.
With pleasure,
The Mano Cherga Band